Andrew Luck and RGIII: Superstar Duo or Coin Flip?
Cold, Hard Football Facts for Apr 25, 2012
By Scott Kacsmar
Cold, Hard Football Facts dynamic uno
Without even a hint of secrecy, we have known for weeks that the Indianapolis Colts will select Andrew Luck with the first pick of the 2012 draft, and right after that the Washington Redskins will take Robert Griffin III.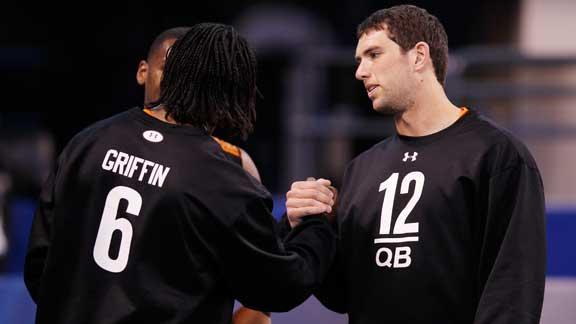 The surprise is this will be just the
sixth NFL draft
that started with back-to-back selections of the game's most coveted position. The 1964 AFL draft also started with two quarterbacks, but to no success (Jack Concannon and Pete Beathard). Is it a harbinger of things to come, or a rare event that speaks volume about these two prospects? If you haven't been paying attention, practically everyone expects franchise quarterback stardom out of both Luck and Griffin.
The fortunate Colts will have their logical successor to Peyton Manning when they take the signal caller out of Stanford, hoping to recreate some Joe Montana/Steve Young and Brett Favre/Aaron Rodgers magic.
Washington made the blockbuster trade to ensure they got their man, as the closest thing they've last had to a drafted franchise quarterback was Mark Rypien over twenty years ago. Not even Joe Theismann and Sonny Jurgensen were originally drafted by the Redskins, putting Sammy Baugh-type expectations on RGIII to deliver as the face of the franchise.
But after all the gaudy numbers and NCAA success, the impressive combine performances, the stamp of approval for their character, is it realistic that both quarterbacks will be huge successes in the NFL? After all, no draft in the history of the NFL has ever turned out that way. One team's success has been the other team's failure. Forever linked to this moment in time, two franchises have made critical decisions on these quarterbacks that will likely make a significant impact on the league's future.
Luck & RGIII: We've Seen This Story Before
One thing's for sure: there will be extreme pressure on the Colts and Redskins to make this work.
When you release a non-retiring Peyton Manning, you better have an incredible backup plan, and the Colts just so happened to have the best quarterback prospect since...well, Peyton himself on the board. However, when you have the first pick, you have a huge decision to make as the draft's lead domino. That decision is even larger when you are picking between two quarterbacks.
We have seen that choosing first has been advantageous, and the team that swoops in for second place – like Washington has; like the San Diego Chargers did for Ryan Leaf in 1998 – could be setting themselves up for huge disappointment.
One player was considered to be the "safe" pick; the more cerebral player that won't wow you physically, but can effectively get rid of the ball. Are we talking about Peyton Manning or Andrew Luck? Start talking about "classic drop-back passer", and we could be talking about Tim Couch as well.
The other player was considered to have a higher ceiling, a better arm, a more impressive physical presence, and that dreaded "upside" cliché. Are we talking about Ryan Leaf or Robert Griffin III? Throw in questions about the offense he played in and that he's African-American, and we could be talking about Donovan McNabb (and RGIII again)..
That's not to say that Luck is Tim Couch, or Griffin is Ryan Leaf, but no matter how good the two prospects are this year, it's some of the same old rhetoric being used to describe them.
In this case, the white quarterback is noted for his intelligence, while also showing "deceptive speed" as evident by his scrambling at Stanford and strong 40-yard dash time. The black quarterback is considered rawer, but with more upside, potential, and any other phrase that is a euphemism for nicely saying the black player's more athlete than intellectual.
The truth is Luck and RGIII have more in common than any archaic draft language can express, and the only thing that matters for their future is whether or not they are being picked by the right team.
Coming out of the Peyton Manning era, it makes Luck an easy choice for the Colts, because he best replicates that style of offense. The Colts have never really featured game-breaking receivers, and with the barren wasteland that makes up their current receiving corps, they will need a quarterback that makes the smart, accurate throws to the group of possession receivers, which is what Luck had at Stanford. No one will worry about a lack of "explosive" plays from Luck as long as he consistently finds a 10-yard gain on third-and-long.
For Mike Shanahan's offense in Washington, a quarterback that is more used to moving out of the pocket, running bootlegs, and throwing downfield to fast receivers would be a better pick. Shanahan coached the likes of John Elway and Steve Young to career seasons, and would love to rebuild his Hall of Fame credentials with the development of RGIII.
It would appear each quarterback is going to go into the right situation for what they do best, which has not always been the case in these drafts that start with two quarterbacks. Of the five times a draft started this way, we think the most appropriate comparison to 2012 would be the last such two-quarterback draft – way back in 1999.
1999: No. 1 Tim Couch (Cleveland) and No. 2 Donovan McNabb (Philadelphia)
The last draft to start QB-QB was back in 1999, which actually featured three quarterbacks in the first three picks. After Tim Couch and Donovan McNabb were selected, the Bengals gambled on Akili Smith after minimal experience at Oregon, and they lost that gamble. Keep this in mind if you think Ryan Tannehill should fall extra early Thursday evening.
Tim Couch: Underrated Quarterback
Tim Couch was the consensus top pick out of Kentucky heading into the draft, though his selection was more of a curse, as the Cleveland Browns were just returning to the league in 1999, and he would be paired with a roster devoid of almost any NFL-capable talent.
If you want an example of how inept Cleveland (2-14) was as an expansion team, look no further than the season opener at home versus Pittsburgh. The Steelers won 43-0, while compiling 34 first downs (2 for Cleveland), 464 yards (40 for Cleveland), and possessing the ball for 47:49.
Couch actually finished with respectable numbers as a rookie, throwing 15 TD, 13 INT, and a 73.2 passer rating. In fact, Couch finished with a mid-70's passer rating in all five of his seasons in Cleveland – never turning into a star, but also never completely bombing out like past busts. Still, he was out of the league after his five seasons with the Browns.
Though his career legacy may read "bust", Couch was a better quarterback than the likes of David Carr, Joey Harrington, JaMarcus Russell, and until last season, Alex Smith in San Francisco. The Browns never could find him a running game, an offensive line, a receiving corps, or a good coach for that matter.
Still, the only postseason Cleveland has participated in during their 13 seasons since their return was in 2002, and Couch was the primary quarterback, posting an 8-6 record as a starter. Yet no one seems to remember this fact, because Cleveland started and finished their season in memorable fashion with
Kelly Holcomb
behind center.
In a Week 1 shootout against the Chiefs, the Browns lost on the final play after Dwayne Rudd was penalized for prematurely removing his helmet. The Chiefs won 40-39 after an untimed field goal ended the game. Holcomb passed for 326 yards and 3 TD. Then in the Wild Card start at Pittsburgh, it was Holcomb again subbing for an injured Couch, and he led an aerial assault to the tune of 429 yards passing. The Browns blew a 17-point lead and lost 36-33, but it was the most memorable game they have played in since 1999.
While Holcomb brought excitement, Couch was the quarterback for most of that lone playoff season. Couch also delivered some excitement of his own during his brief career, as he managed 11 game-winning drives – exactly half of his win total (22 games).
Two of those miraculous wins
were by a Hail Mary, as part of a
one-minute drill
each time.
If the game was still close late, Couch actually gave the Browns a decent shot at pulling it out. That has not been the case since he left, and the reality is the Browns miss Couch more than anyone is probably aware of.
| | | | | | | | | | | | |
| --- | --- | --- | --- | --- | --- | --- | --- | --- | --- | --- | --- |
| Browns 1999-11 | Starts | Record | Win % | Attempts | Comp. | Pct. | Yards | YPA | TD | INT | PR |
| With Couch | 59 | 22-37 | 0.373 | 1714 | 1025 | 59.8% | 11131 | 6.49 | 64 | 67 | 75.1 |
| Without Couch | 149 | 46-103 | 0.309 | 4760 | 2698 | 56.7% | 29336 | 6.16 | 157 | 180 | 70.2 |
Since returning to the league in 1999, the Cleveland Browns won more often and got better quarterback play with Tim Couch than they have without him.
The "without Couch" would include the likes of Doug Pederson, Kelly Holcomb, Trent Dilfer, Jeff Garcia, Charlie Frye, Derek Anderson, Seneca Wallace, Brady Quinn and Colt McCoy.
Was Tim Couch an epic bust? No. The Cleveland Browns 2.0 have been an epic bust, and Couch was the best move they made at quarterback. They just failed to build the team around him like the team that picked No. 2 in that 1999 draft did for their quarterback.
Donovan McNabb's Hall of Fame Case
Donovan McNabb, booed on draft day, would go on to have a much brighter career in Philadelphia, as he became the star quarterback of the Andy Reid-era of success. That included 5 NFC Championship appearances, and one Super Bowl loss. Of course, with all the big-game losses, Eagles fans will always have animosity for McNabb, who since being traded from Philadelphia has flamed out in Washington and Minnesota.
McNabb may not have known NFL games can end it a tie, or that Progresso tastes better than Chunky, but he has recently stated he believes he had a Hall of Fame career. Two years ago he may have been onto something, but not after the disappointing stints with the Redskins and Vikings.
The case for McNabb as a HOFer was heavily slanted towards Philadelphia's team success in the wins department:
McNabb's 98 regular season wins are tied for 12th all time. Of the 11 to win 100+, 8 are in the HOF, with Brett Favre, Peyton Manning and Tom Brady ready to make it 11/11.
McNabb has started 16 playoff games and won 9 of them.
Of the 13 QB's to start at least 14 playoff games, 8 are in the HOF. Favre, Manning, Brady and Ben Roethlisberger will make it 12/13. McNabb is the 13th.
Of the 13 QB's with 9+ playoff wins, 7 are in the HOF. Brady, Manning, Favre, Warner and Roethlisberger should make it 12/13. McNabb is the 13th.
Of the 28 quarterbacks with 5+ Pro Bowls, 20 are in the HOF, and Manning, Favre, Brady, Drew Brees will make it 24/28. McNabb (6 Pro Bowls, though selected only twice; 2003 & 2004 seasons) will be with primarily AFL-gunslingers: John Hadl, Daryle Lamonica and Jack Kemp.
After a 6-13 record in the last two seasons, and with retirement seemingly the only option, McNabb closed his Hall of Fame case after he was unable to add onto his wins and statistics. He will fall short of milestones such as 40,000 yards passing and 250 touchdown passes.
From 2005-2011, McNabb's performance was hardly that of a HOF quarterback. He compiled a mediocre 42-39-1 (.518) record as a starter (only 2-2 in the playoffs), and ranked 11
th
in passing yards, 13
th
in touchdown passes, 28
th
in completion percentage, 10
th
in yards per attempt, and 14
th
in passer rating (among quarterbacks with min. 1,000 attempts).
Before that, McNabb was a superb scrambler, but still not a very efficient passer. From 1999-2004, he ranked 11
th
in passing yards, 5
th
in touchdown passes, 26
th
in completion percentage, 31
st
in yards per attempt (Tim Couch was 32
nd
), and 14
th
in passer rating.
A few more solid years of adding onto the numbers would have probably done the trick, but this inglorious finish puts him in the same tier as non-inductees such as Randall Cunningham, Phil Simms, Ken Anderson and Joe Theismann.
What has not helped McNabb is the bar being raised by his peers in terms of passing statistics, consistency, durability, and his lack of a Super Bowl ring. We are living in a rare time where most of the best quarterbacks in the league have at least one ring. McNabb will be remembered as the quarterback that blew numerous opportunities to join that club.
He should not be joining the Hall of Fame either.
Reverse the Situations?
While Andrew Luck and Robert Griffin III are better prospects than Couch and McNabb were, you can still see similarities in this draft from 1999. Luck will be going to the team that has a roster resembling an expansion team, though he should have more to work with than Couch did. RGIII will go to the NFC East as the more athletic quarterback, and will get to work with a coach that has had past success at shaping quarterbacks.
Had the situations been reversed, would McNabb have failed in Cleveland while Couch took advantage of the better team and coaching in Philadelphia? Hard to say, but here is what we know: Couch was underrated in Cleveland, and McNabb was underappreciated in the first half of his stint in Philadelphia.
We'll leave you with one more 1999 draft stat to ponder: when it comes to fourth quarter comebacks, the much-maligned Donovan McNabb had a 16-37-1 (.306) record, while Tim Couch was 10-14 (.417).
The Four Other QB-QB Drafts
You only have to go back one more year to find the next QB-QB draft, and it's probably the grand case study in how one team can choose the right quarterback, and the other gets the most rotten of leftovers.
1998: No. 1 Peyton Manning (Indianapolis) and No. 2 Ryan Leaf (San Diego)
Quite simply, it's the biggest quarterback mismatch in draft history. The
disparity continues to grow
to this day. While Peyton Manning could legitimately lay claim to being the best quarterback ever, Ryan Leaf can lay claim to being the worst ever.
But no one would have believed that was possible in 1998. Some thought Leaf was going to be a better NFL quarterback than Manning.
Some may have even carried over such enthusiasm into the regular season, as Manning struggled early with interceptions, while Leaf started 2-0. Does anyone even remember Leaf winning his first two starts? Probably not, as they came on the strength of some strong defense, and a
54-yard field goal
by John Carney. They actually ended up being two of Leaf's better performances.
It was all downhill from there, with Leaf finishing 4-17 as a starter, and throwing 14 TD to 36 INT. When Manning throws his next touchdown pass, it will be the 400
th
. Leaf completed 317 passes of any length in his career.
Manning's superiority should have been apparent before the draft. While some questioned Leaf's workout ethics and level of maturity and professionalism, some thought he was the better prospect with more upside over safe bet Peyton.
Leaf before the combine: "The Chargers pick third," he pointed out "They're going to have to trade up to get me because I'm going to be long gone by then."
It's 2012, and the only thing long gone is Leaf's NFL career. While RGIII is practically the anti-Leaf, we're sure the Colts will settle in just fine with another "safe bet" at the top of the draft this year.
1993: No. 1 Drew Bledsoe (New England) and No. 2 Rick Mirer (Seattle)
Let the 1993 draft be a good example of ignoring counting stats and giving young players more than a year before any crowning is done. Some people instantly flocked to Notre Dame's Rick Mirer as the superior pro quarterback over No. 1 pick Drew Bledsoe.
This was in large part due to Mirer setting a lot of the rookie passing records; namely the ones for attempts, completions and yards. Of course, when you have the most attempts, you're expected to have the most completions and yards. Then when you're the first rookie quarterback to start all your team's games in a 16-game season, then there's a good chance you're going to have the most attempts.
One announcer
even went as far as to say "
the more they say Rick Mirer looks like Joe Montana, the more I'm willing to believe it
." This is when you stop listening to "they" and focus on the facts.
One year later Bledsoe was, oddly enough, setting the NFL record for pass attempts in a season (691), but doing it for a 10-6 playoff team. Mirer never really improved after his rookie year, and somehow still fetched a first round pick in a 1997 trade to Chicago.
Take what we learned from Bledsoe vs. Mirer. The better quarterback between Luck and RGIII won't be decided for several years.
1971: No. 1 Jim Plunkett (New England) and No. 2 Archie Manning (New Orleans)
This was the first (and only one of two) draft to start with three quarterbacks, as Dan Pastorini (Houston) followed Jim Plunkett and Archie Manning. It's a hard group to analyze as they all were given a large number of starts, played in the difficult passing era of the 1970's, but none were all that successful even when adjusting for era.
Plunkett, from Stanford, had one of his best seasons as a rookie, throwing 19 TD and 16 INT for the 1971 Patriots. But after never posting a winning record in any season there, he was traded to San Francisco in 1976 for two more non-winning years.
It was only in Oakland, oddly enough after a 1980 injury to Pastorini, that Plunkett went 9-2 as a starter – his first winning campaign – on his way to the first of two Super Bowl wins in four years.
Meanwhile the Manning patriarch never got to experience the success his sons did, as in 14 years, Archie never played for a team with a winning record. His 35-101-3 record is the worst of all time (min. 100 starts).
Despite the bad record, Manning made two Pro Bowls (1978, 1979) and is a legend in New Orleans. The Saints had a bit of an "extended expansion era", and no matter how much Manning passed and ran for his life on the team, they never could get over the hump during his time there.
If doing an all-time career ranking, Plunkett likely would be ahead of Manning based on his success in Oakland. As for which team got the better quarterback, it's hard to justify New England making the right pick as Plunkett was traded after five non-winning seasons. Immediately after the trade, New England finished 11-3 and made the playoffs behind Steve Grogan. To think that we were this close to the Manning NFL legacy beginning in New England.
As for the best quarterback in the 1971 draft class, you'd have to look at Ken Anderson, who slipped to the third round (67
th
overall). That's another reason this draft is different. The best quarterback didn't go in the top two picks. The 1971 draft also produced Lynn Dickey (56
th
overall) and Joe Theismann (99
th
overall). That is six quarterbacks with over 3,000 career attempts each from one draft class.
1954 – Bobby Garrett (Cleveland) and No. 2 Lamar McHan (Chi. Cardinals)
What if Andrew Luck
stuttered
when he talked like former Stanford great Bobby Garrett? It seems silly to ask, but this is a sign of how far the draft process has come, how advanced the media coverage is, and how much more serious of a business the NFL has become.
In 1954, Bobby Garrett was chosen #1 overall by the Cleveland Browns, hoping he'd be the future starter once Otto Graham was done. Garrett was an All-American at Stanford, completing a strong college career. But the Browns soon found out that he had a bad stuttering problem, which would make playcalling difficult. So they traded him along with three other players before the 1954 season started, and got QB Babe Parilli and an OT from Green Bay. Apparently Green Bay wasn't made aware of this stuttering problem before making the deal.
Garrett's career NFL numbers: 1 season, 9 games, 0 starts, 15/30 for 143 yards, INT, 1 rush for -3 yards, 2 fumbles
Even though Lamar McHan threw 6 TD to 22 INT with a 1-10 record his rookie year, the Cardinals win this one by default. At least McHan played 113 games in the NFL, and even backed up Johnny Unitas in the 1960's for the Colts.
How far would a player like Luck get in his football career today if he couldn't always get the play out in a timely fashion? Would he have even been offered a spot at Stanford like Garrett was?
You couldn't get past a post-game interview with Erin Andrews without letting the world know (then Tweet, Facebook, e-mail, text, only maybe call) about your speech impediment. This would also imply there was no pre-draft interview or meeting with Garrett and the Browns, which is another shock to the system when thinking about today's process.
Conclusion
Fortunately Luck and RGIII do not stutter, nor do they wish to hop a plane to Vegas on Thursday night, Leaf-style. Unfortunately, they are still victim to draft clichés, racial stereotyping, and typical pre-draft banter that was present over a decade ago.
History says one will bust. It's almost a given. With recent rookie quarterback success and the amount of hype placed on these two players, the expectations are going to be at an all-time high.
But there's also not much history of a draft like this with quarterbacks like this at the top of it. Love them or hate them, you should root for the Colts and Redskins to make these picks work out. The NFL is better with more elite quarterbacks.
Is there enough room in one draft for two star quarterbacks at the top? As luck would have it…absolutely.
Scott Kacsmar is a football researcher/writer who has contributed large quantities of data to Pro-Football-Reference.com, including the only standardized database of fourth quarter comebacks and game-winning drives. He will be covering Andrew Luck extensively this season at Colts Authority. You can send any questions or comments to Scott at smk_42@yahoo.com and you can follow him on Twitter at @CaptainComeback.
From our partners