The Waterboy's Completely Horrified Predictions, Part 2
Cold, Hard Football Facts for Aug 30, 2011
By Luis Deloureiro
Cold, Hard Football Facts Deputy Assistant Back-Up to the Assistant
With Irene charging up the east coast, this weekend was dedicated to hunkering down and preparing the homestead for her vicious combination of wind and rain.
Of course, preparing the homestead consisted of moving the family wagon – with a rusted out muffler and 170,000 miles – within eight feet of the basketball hoop and removing all weight from the hoop's base.
Alas, Irene hit the Waterboy's headquarters in Northern Massachusetts with less enthusiasm than expected – making insurance fraud more difficult than originally anticipated.
One would think that with our fertile NFL minds pre-occupied by the storm, we would be unable to come up with yet another clever topic to follow up last week's Waterboy – "
The Waterboy's Completely Horrified Predictions
."
Fear not. Our dedication to our fans has once again trumped all – including anything nature could throw our way. As such, we bring you this week's totally original edition of the Waterboy - "The Waterboy's Completely Horrified Predictions – Part Two".
Below are a couple more thoughts/predictions for the 2011 season ...
read here for part one
.
ONE – MVP
The Waterboy's choice for NFL MVP is Philip Rivers.
Why?
Mostly because you would stop reading if we said it would be Tom Brady or Peyton Manning – who have combined to win the last four awards.
But also, Philip Rivers has put up numbers in the last three years that even Brady and Manning couldn't match.
The table below shows Rivers's rank among NFL quarterbacks in two key statistics: Passer Rating and Passing Yards Per Attempt (YPA) - which very closely correlates with offensive points scored.
As the table above indicates, he has dominated YPA and finished in the top three each year in QB Rating.
In the last three years combined, Rivers is first overall in each of these metrics. His combined three-year YPA is 8.62 – almost two-thirds of a yard ahead of second place Aaron Rodgers (7.99). And his three-year passer rating is 103.8 – slightly ahead of Brady (103.1). Brady's average is based on only two years because he missed most of the 2008 season with an injury.
Did we cherry pick the stats? You bet.
But, his traditional metrics are outstanding as well.
Looking at the last three years combined, Rivers ranks third in total passing yards with 12,973 - behind Drew Brees (14,077) and Manning (13,202) - and third in touchdown passes with 92 – again behind Brees (101) and Manning (93).
The MVP trophy has eluded him for a few reasons – with the two most prominent being Brady and Manning. Another major obstacle has been San Diego's inconsistent play the last three years.
So, we've spent the last 400 or so words telling you about how good Rivers has been the last three years.
How does that translate to an MVP trophy in 2011? We already predicted team success for the Chargers in part one of our predictions. So, lack of team success won't be an issue. And Manning is entering the 2011 season with injury issues.
If Rivers performs the way he has the last three years, he has a good chance to unseat Brady as the league MVP ... of course, this is all contingent upon Brady playing like a human being in 2010 – instead of whatever that was that threw 36 touchdowns and four interceptions last season.
Other possibilities:
Brady, Manning, Chris Johnson, Mike Vick, Aaron Rodgers
Dark Horse:
Ben Roethlisberger
Really Dark Horse:
Matt Stafford (we don't really believe this one, but we'll look really good if it happens), Darrelle Revis (see Stafford, Matt)
TWO – Comedown Player of the Year
Before we proceed, we do want to say that this award is not for a player who had a ridiculous, record-breaking season and followed that up with merely a great season (think Chris Johnson the last two years). This is for a player who had what appeared to be an elite season and follows that up with a mediocre – or bad – season (think Derek Anderson from 2007 to 2008).
We'll choose Matt Cassel. Last year, Cassel made the Pro Bowl in a season where his primary job was not to lose the game. He played that role well – earning a QB rating of 93.0 while throwing 27 touchdowns and only seven interceptions and leading the Chiefs to an AFC West Championship.
But, the Chiefs finished 29th in the NFL in pass attempts – rarely asking Cassel to carry much of the offensive load. With a tougher schedule in 2011, Cassel will likely be asked to take some of the offensive burden off of Jamaal Charles and the running game.
Our guess is he won't succeed.
Further, outside of his touchdown to interception ratio, Cassel's 2010 statistics didn't jump off the page. His YPA was 6.92 – 19th in the league – and, while we consider completion percentage an overrated statistic, his 58.2% was good for only 26th in the league.
Other possibilities:
Jay Cutler, Josh Freeman, Brandon Lloyd, Jamaal Charles, Peyton Hillis, BenJarvus Green-Ellis, Steve Johnson
THREE – First Head Coach to be Fired
The chalk answer seems to be that this is a toss-up between Jack Del Rio and Gary Kubiak.
But, we predicted a division championship for the Texans. Therefore, we obviously don't believe Kubiak will lose his job.
And, there's an unwritten rule that coaches buy at least a year of job security if they draft a first-round QB – or, maybe, we just made that up.
Regardless, the Jaguars will probably give Del Rio some leash while Gabbert develops.
So, by process of elimination, we'll go with Tony Sparano in Miami.
We believe the Dolphins are one of the worst run franchises in the NFL. While Sparano does not have final say on most decisions, he will be the scapegoat when the result of those decisions is another season without a playoff berth.
Other possibilities:
Norv Turner (if we're wrong about San Diego's level of success), Tom Coughlin
FOUR – NFC Champion
We've already predicted a Super Bowl championship for San Diego – so we'll just let you guess who we predict will come out of the AFC.
In the NFC, we'll pick the Eagles. While we feel that the "Dream Team" moniker is overdoing it, the Eagles have added significant pieces – most prominently Nnandi Asomugha (we almost picked the Packers just so we wouldn't have to spell that) – to a team that finished in the top half in every Cold, Hard Football Facts
Quality Stat
except
Bendability
.
Mike Vick's fragility is a concern, but the signing of Vince Young gives them the best backup quarterback in the NFL.
Chargers over the Eagles in the Super Bowl – yep, that's how we see it.
FIVE – Andrew Luck's Landing Spot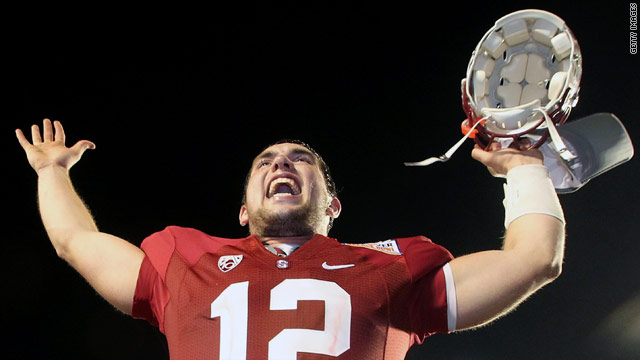 We're gonna call BS on all of this talk about Jim Harbaugh liking Alex Smith. We don't buy it.
Harbaugh has his eyes on Luck – his former quarterback at Stanford.
OK…..so the 49ers did use a second-round pick on Colin Kaepernick and you don't usually pick a quarterback in the second round unless you expect him to start. We can't quite figure out how that fits into our theory – so we'll ignore it.
We (maybe in this case we should stop saying "we" and just say the Waterboy – it's not the most logical argument) believe Harbaugh wants Luck – as do many NFL teams.
Will the 49ers land the number one spot? Not impossible, but they're not the most likely candidate. We (see above about using "we" in this prediction) believe Harbaugh will make a major offer to get the top pick.
The only reason this MAY be a reasonable theory is that most teams in contention for the top pick already have a young quarterback and would probably (possibly? Maybe?) listen to a trade offer……..
Screw it……it sounded more reasonable before we wrote it down.
SIX – A Few More Random Predictions
Biggest Increase in Wins –
Cleveland Browns
Biggest Decrease in Losses –
Cleveland Browns (just making sure you were paying attention)
Biggest Decrease in Wins –
Tampa Bay Buccaneers
Top Fantasy Quarterback –
Philip Rivers
Top Fantasy Running Back –
Adrian Peterson
Top Fantasy Wide Receiver –
Andre Johnson
Coach of Year –
No clue (It's getting late)
Comeback Player of the Year –
Even less of a clue
Player Most Likely to Disappear for a Couple of Weeks –
Dez Bryant
Player Most Likely to Get Back Together With Kristin Cavallari –
Jay Cutler
And we're done…….
If you have any questions, comments or death threats for the Monday Morning Waterboy, please feel free to contact him on Twitter @deloureiro
From our partners