NFL Scouting Report For Horror Movie Villains
Cold, Hard Football Facts for Oct 31, 2013
Happy Halloween everyone.

Here's the lowdown on some of the most infamous horror movie slashers as football players. Because you need it and want it.

Norman Bates – Psycho
Biggest Strength: His psychoanalytical problems and skills give Bates an edge in preparation. He isn't afraid to spy on the opposition and knows how to play mind games.
Biggest Weakness: An inability to adapt on the road … Bates can thrive in sandlot games at the Bates Motel, but take him out of his comfort zone and you never know what you're going to get.
Overall: Bates is only worth a roster spot as an assistant coach … think Brian Schottenheimer with an appetite for shower stabbings.
Frankenstein – Frankenstein
Biggest Strength: Longevity
Biggest Weakness: Speed and agility
Overall: Frankenstein is best suited for a team seeking attention that needs a jolt of publicity, which unfortunately puts him in BrettFavre/Tim Tebow territory. Otherwise, he would be great as a home-team chain-gang novelty act. His lack of speed would be in line with the over-55 crowd who mark each first down.
Chucky – Child's Play
Biggest Strength: Looks like Jon Gruden; low center of gravity gives him edge running the ball behind blockers.
Biggest Weakness: Looks like Jon Gruden, who was a self-described "ham and eggs quarterback" below the NFL level.
Overall: His effectiveness would rely on his ability to conceal his ax, which isn't farfetched when you consider it's a mini-ax. Best suited as an ax-wielding scat back.
Jack Torrance – The Shining
Biggest Strength: Craziness and endurance.
Biggest Weakness: He's not a physical specimen in the prime of his career.
Overall: Torrance is the type of player the CHFF's would describe as "physically punching above his weight class". Although he's old and worn down, he is crazy and selfless enough to play safety and special teams. Think Bill Bates from the early-90s Cowboys with a penchant for bludgeoning victims with a mallet.
Cujo – Cujo
Biggest Strength: Rabid Stamina; Passion; Power
Biggest Weakness: Might fumble as a ball carrier if he sees a rodent or tennis ball trickle across the field; propensity to be penalized for hits to the head when jumping on hind legs.
Overall: Cujo has potential as a runner or as a defensive back, but needs to be kept on a short leash (no pun intended) by the coaching staff.
Stay Puft Marshmallow Man - Ghostbusters
Biggest Strength: Size; Run & Pass Blocking
Biggest Weakness: Been described by some scouts as "soft and gooey".
Overall: Stay Puft would work best as interior lineman. He is most vulnerable when attacked by a four-man blitz.
Ghostface – Scream
Biggest Strength: Represented by multiple people so teams would never know which Ghostface to prepare for; also excels at mind games and psychology.
Biggest Weakness: Doesn't take punishment well.
Overall: Our scouts see Ghostface as a special teams ace. Even with the inability to withstand punishment, the multiple Ghostface killers combine to provide a career similar to Steve Tasker or Brian Mitchell.
Freddy Krueger – Nightmare On Elm Street
Biggest Strength: Supernatural powers.
Biggest Weakness: Can't catch without popping the ball.
Overall: Krueger would be better served as a front office type. The ability to get in other GM's dreams and dictate player development could prove beneficial.
Leatherface – Texas Chainsaw Massacre
Biggest Strength: Has the speed to chase down Jessica Biel in a corn field.
Biggest Weakness: Did I mention she was sweating through her tanktop?
Overall: If he's willing to part with his human-skin masks in favor of the safer NFL helmet, he could very well become a force in his rookie season.
But yeah, Jessica Biel.
Jason Voorhees – Friday the 13th
Biggest Strength: Can rise from death; never-say-die attitude. Superhuman strength.
Biggest Weakness: Described in some circles as Momma's boy; unwilling to adapt to current safety rules and regulations; doesn't want hustle if he can't use his chainsaw.
Overall: Voorhees, much like Cujo, has great potential on either side of the ball, but he needs to consistently channel his aggression for the betterment of the team.
Michael Myers – Halloween
Biggest Strength: Endurance; Toughness; can withstand Punishment; just keeps on plowing ahead.
Biggest Weakness: lacks breakaway speed; past family troubles could make him a locker room cancer.
Overall: It isn't always pretty, but Myers can give you unlimited power on offense as a blocker and runner. Probably the best NFL prospect on the Horror Slasher Big Board.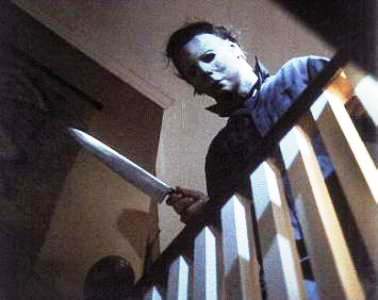 From our partners