Flash-forward: 2009 NFC West draft review
Cold, Hard Football Facts for Jun 26, 2012
By Scott Kacsmar
Cold, Hard Football Facts Omniscient Author
Finally we head out to the Western divisions to conclude the review of the 2009 NFL Draft. These two divisions made three of the top four picks in the draft, and half of the top 12. Today we just look at the NFC.
Though the NFC West gets a lot of criticism, three of the teams have managed to win a playoff game since the 2009 season. San Francisco (2011) and Seattle (2010) have eliminated the New Orleans Saints the last two years.
Only the St. Louis Rams, 10-38 (.208) since 2009, have been a pushover. The Rams had the No. 2 pick in this draft, but Matthew Stafford was already off the board to Detroit. That was unfortunate, as the rest of the top 12 in 2009 have been a very shaky group to this point.
In the first round, two NFC West teams were burned by "safe picks" in the top four selections. Another went for what was supposed to be the "
best wide receiver
in the draft." The other picked up a player with an "injury prone" reputation.
How fitting only Arizona got someone that is who they thought they were.
2009 Draft Reviews
Part I: NFC North
Part II: AFC North
Part III: NFC South
Part IV: AFC South
Part V: NFC East
Part VI: AFC East
Notes
: Players listed in
bold
are still on the active roster of the team that drafted them. A player with his games played (GP) and games started (GS) listed in
red
has appeared in games for a team other than his draft team. "CarAV" refers to data from the
Approximate Value
system at Pro-Football-Reference.com. References to snap data credited to
Pro Football Focus
.
4. SEATTLE SEAHAWKS
The safe pick was a bust was still likely their best pick of the draft
Did that sentence make sense? It makes about as much sense as Seattle agreeing to promote Jim Mora Jr. to head coach the season before Mike Holmgren officially retired. Mora was fired after one 5-11 season in 2009.
Doing him no favors was his draft class. With the No. 4 pick, Seattle had a chance to take what was supposed to be
the best player and safest pick
in the draft: Wake Forest linebacker Aaron Curry.
Even though Curry was not going to be much of a pass rusher in the NFL, you still could justify taking the likes of a Ray Lewis or Patrick Willis this high in the draft. The problem is Curry has never been that class of linebacker. Curry made 156 tackles in 35 games for Seattle.
For someone that was talked about as being the No. 1 overall pick, he may compare best to
Aundray Bruce
, the infamous bust taken by Atlanta in 1988 with the top pick.
Curry
was not aware of Bruce
before the draft, but he should be very familiar now. Bruce played 11 seasons in the league, spending the last seven with the Raiders. That is the team Curry was traded to last season.
The Class
| | | | | | | | | |
| --- | --- | --- | --- | --- | --- | --- | --- | --- |
| Rnd | Pick | Player | Pos. | College | GP | GS | CarAV | 2012 Team |
| 1 | 4 | Aaron Curry | LB | Wake Forest | 46 | 39 | 19 | Oakland |
| 2 | 49 | Max Unger | C | Oregon | 32 | 32 | 11 | Seattle |
| 3 | 91 | Deon Butler | WR | Penn St. | 34 | 8 | 4 | Seattle |
| 6 | 178 | Mike Teel | QB | Rutgers | 0 | 0 | 0 | None |
| 7 | 245 | Courtney Greene | S | Rutgers | 30 | 13 | 5 | Jacksonville |
| 7 | 247 | Nick Reed | DE | Oregon | 26 | 0 | 4 | Minnesota |
| 7 | 248 | Cameron Morrah | TE | California | 27 | 7 | 3 | Seattle |
Best Pick: OL Max Unger (2.49) -
Seattle traded their picks in the third and fourth rounds (68th and 105th, respectively) to Chicago for this pick. Unger started his first 13 games as a rookie at right guard before moving to center for the final three games. He is better suited for pass protection than he is run blocking. He only played one game in 2010 after a toe injury ended his season. He returned in 2011 as a full-time center. According to Pro Football Focus, he was one of the best pass-blocking centers in the league, only allowing seven quarterback hurries.
Worst Pick: WR Deon Butler (3.91) -
Even though Brian Orakpo, Brian Cushing and Clay Matthews were all superior linebackers taken in the first round, we are not going to go with Curry for the simple idea that players taken 5-12 would not have made much of a difference for Seattle. They basically had to pick Curry. What they did not need was another wide receiver going off the board in the third round. Butler was the runt of the third-round litter; the last of six wide receivers drafted from 82-91. He has been the third most productive, but still has just 57 receptions for 611 yards and four touchdowns in 34 games. He only played 73 snaps in the last five games of 2011.
The Others
LB Aaron Curry (1.4) -
Seattle fully bought into the hype of Curry being the best player in the whole draft. A tackle machine and defensive signal-caller would have been worthy of the pick, but Curry never became either of those things. After five games last season, Seattle
traded Curry to Oakland
in exchange for just a seventh-round pick and a 2013 conditional pick. Al Davis had already passed, but he was the guy that went after Aundray Bruce as a free agent in 1992, so it was a Raiders-esque move. With the low compensation, guess teams have wised up after a Rick Mirer theft for a first-round pick.
QB Mike Teel (6.178)
- He never played in a NFL regular season game. After the Seahawks signed J.P. Losman in 2010, Teel was released. He would spend brief time with New England and Chicago before going on to coach quarterbacks in the NCAA. Teel had a bit of a reputation as a "winner" at Rutgers, but it was probably more due to playing with future NFL talent like Ray Rice and Kenny Britt.
S Courtney Greene (7.245) -
Speaking of Rutgers, Greene was the safety there. He never made Seattle's active roster, and was soon signed by Jacksonville in early 2009. Greene has started at both safety positions in Jacksonville.
DE Nick Reed (7.247)
- As a rookie, Reed provided solid depth for Seattle, mostly at right defensive end with 173 snaps. Reed was given an injury settlement from the team in 2010, and signed a 2011 contract with Chicago. He played seven games there and three for Tampa Bay at the end of the year. Last month he signed a contract with Minnesota.
TE Cameron Morrah (7.248)
- One pick later, the Seahawks went for a backup tight end. He played four snaps of action as a rookie before increasing to 242 snaps in 2010. Last season he played 170 snaps. Morrah has 16 career receptions for 194 yards.
3. SAN FRANCISCO 49ERS
Michael Crabtree was great at Texas Tech, but NFL a different beast
People love the big-name wide receivers. Michael Crabtree was a highly productive No. 1 option in Texas Tech's pass-happy attack, and made one of the college football
plays of the year (2008)
to beat Texas.
With everyone expecting Crabtree to be the first wide receiver taken in the draft, it was shocking when he was not. Sitting there at No. 10 with San Francisco on the clock, it seemed like the 49ers were getting a steal after some questionable moves by other teams.
Unfortunately, a ridiculously long holdout into October limited Crabtree to 11 games in 2009, and he had 625 receiving yards. His per-game production actually dropped in 2010, and last season he had a career-high 72 receptions for 874 yards.
He may not be a total diva receiver, but he also is not the best wide receiver in the draft. If Kenny Britt straightens up in Tennessee, Crabtree may not even be a top five receiver in the class with Mike Wallace, Hakeem Nicks, Jeremy Maclin and Percy Harvin also in the discussion.
San Francisco may have ranked last here if it was not for their trade out of the second round (43rd overall) with Carolina to net a first-round pick in 2010, which became guard Mike Iupati. Given how little was left on the board in 2009 (Frank Gore limits LeSean McCoy's effectiveness), this was a smart trade.
The Class
| | | | | | | | | |
| --- | --- | --- | --- | --- | --- | --- | --- | --- |
| Rnd | Pick | Player | Pos. | College | GP | GS | CarAV | 2012 Team |
| 1 | 10 | Michael Crabtree | WR | Texas Tech | 42 | 40 | 20 | San Francisco |
| 3 | 74 | Glen Coffee | RB | Alabama | 14 | 2 | 2 | None (retired) |
| 5 | 146 | Scott McKillop | LB | Pittsburgh | 16 | 0 | 2 | Buffalo |
| 5 | 171 | Nate Davis | QB | Ball St. | 0 | 0 | 0 | None (LSFL) |
| 6 | 184 | Bear Pascoe | TE | Fresno St. | 35 | 23 | 5 | NY Giants |
| 7 | 219 | Curtis Taylor | SS | LSU | 12 | 0 | 1 | Oakland |
| 7 | 244 | Ricky Jean-Francois | DT | LSU | 35 | 2 | 3 | San Francisco |
Best Pick: WR Michael Crabtree (1.10) -
It could not be anyone else. Crabtree has not been the highly productive stud he was in college, but the 49ers do not throw the ball a lot, and he has caught 175 of 301 career targets (58.1 percent). He caught 63.2 percent of his targets in 2011.
Worst Pick: RB Glen Coffee (3.74) -
Having a backup for Frank Gore is a smart idea, but Coffee was not the right pick. With quality backups to be found later in the draft, the 49ers were close to that territory with Mike Wallace and Lardarius Webb on the board. Even a guard like Louis Vasquez (3.78) could have given them more. As a rookie, Coffee had 83 carries for 226 yards. That is just 2.72 yards per carry. Frank Gore averaged 4.89 yards per carry behind the same line in 2009. Coffee retired just before the 2010 regular season. This is one player you could definitely say
did not have football in his heart
.
The Others
LB Scott McKillop (5.146)
- He had two strong years at Pittsburgh, but without the athletic flash, he fell to the fifth round. McKillop got in 34 snaps as a rookie and could have been a backup for Patrick Willis plus a special teams player (19 tackles in 2009), but he tore his ACL in training camp for 2010. The 49ers let him go last August, and he is still currently with Buffalo, but has not played a regular season game since 2009.
QB Nate Davis (5.171)
- An athletic quarterback from Ball State, Davis has never played in a regular season game. He spent his first two seasons with San Francisco, but was released after 2010. He spent brief time with Seattle and Indianapolis before moving to the AFL. Davis finally settled with the Amarillo Venom in the Lone Star Football League (LSFL).
That is honestly a real thing
.
TE Bear Pascoe (6.184)
- A throwback to the days where tight ends were big guys, but not big enough to play offensive line, Pascoe missed the final cut for the 49ers in 2009. The New York Giants signed him and he has played 35 games with 23 starts for the team that knocked San Francisco out of the playoffs last season. He has 22 receptions for 217 yards.
SS Curtis Taylor (7.219)
- Played 10 snaps at free safety in 2009. Played only on special teams in 2010. Taylor was released in final roster cuts before 2011. He is currently with the Oakland Raiders.
DT Ricky Jean-Francois (7.244)
- Finally the 49ers found someone to stay with Crabtree from this class. He played two snaps at right defensive end in 2009. They moved him to nose tackle as a backup in 2010 (146 snaps). Last season he played 310 snaps and even made the first two starts of his career. Good depth that can play all along the defensive line found in the very late stages of the draft.
2. ARIZONA CARDINALS
Remembering when Arizona entered the draft as defending NFC champions
After a dream season came up just short in Super Bowl XLIII, Ken Whisenhunt's Cardinals returned with a plan to make one more run behind the arm of Kurt Warner.
Perhaps the Cardinals enjoyed the prestige of picking next to last so much that they decided not to make a single trade in the draft. They stood pat with all seven non-conditional picks.
With the impending release of veteran back Edgerrin James, the Cardinals looked for a running back to help their impotent rushing game that was last in the league in 2008. This could also be seen as a move for the post-Warner era, which was soon to come.
They went with Ohio State running back Chris "Beanie" Wells, who was building up a bit of a reputation for being "injury prone", as he seemed to deal with several nagging injuries.
Wells has only missed four games in the NFL so far, but you cannot say he has been a pillar of durability. To back him up, the team also made another wise running back decision in the seventh round.
Of course it seems funny to talk about drafting a running back in 2009, given the fact that
Arian Foster was undrafted out of Tennessee
. Great job, Houston Texans. Shame on everyone else.
Since the secondary struggled in the Super Bowl, the Cardinals went for some depth in the unit with their third and fourth picks. Running backs and defensive backs; that's the name of Arizona's 2009 draft.
The Class
| | | | | | | | | |
| --- | --- | --- | --- | --- | --- | --- | --- | --- |
| Rnd | Pick | Player | Pos. | College | GP | GS | CarAV | 2012 Team |
| 1 | 31 | Beanie Wells | RB | Ohio St. | 43 | 16 | 13 | Arizona |
| 2 | 63 | Cody Brown | LB | Connecticut | 0 | 0 | 0 | None |
| 3 | 95 | Rashad Johnson | FS | Alabama | 42 | 11 | 7 | Arizona |
| 4 | 131 | Greg Toler | CB | St. Paul's | 27 | 13 | 6 | Arizona |
| 5 | 167 | Herman Johnson | OT | LSU | 0 | 0 | 0 | None |
| 6 | 204 | Will Davis | DE | Illinois | 21 | 3 | 3 | None |
| 7 | 240 | LaRod Stephens-Howling | RB | Pittsburgh | 43 | 5 | 8 | Arizona |
| 7 | 254 | Trevor Canfield | G | Cincinnati | 0 | 0 | 0 | None |
Best Pick: CB Greg Toler (4.131) -
Perhaps a surprise pick, but getting value out of the second half of this draft was extremely hard to do. Especially when it is the first player ever drafted out of Saint Paul's College (Division II HBCU). Toler provided 120 snaps as a rookie nickel back. He started 13 games in 2010, and scored a pick six against the Cowboys on Christmas. A knee injury last preseason ended his 2011 prematurely. Now he may find it hard to regain that starting spot.
Worst Pick: LB Cody Brown (2.63) -
Arizona fans: Would you rather have Beanie Wells (1.31) and Cody Brown (2.63), or James Laurinaitis (2.35) and Shonn Greene (3.65)? Just pointing out the possibility of what could have been. No one knows what Brown would have been, or could be, as he has yet to play a regular season game. He injured his wrist in the 2009 preseason and went on injured reserve. The Cardinals released him in final cuts for 2010. He spent the year on the Jets' practice squad, and Detroit claimed him from there. He is currently a free agent.
Brown is the only player in the second round of the 2009 draft to not play in any regular season games. Everyone else played at least 13 games. Everyone but Brown, Pat White (13) and David Veikune (14) played at least 21 games.
The Others
RB Beanie Wells (1.31) -
It is between Wells and Greene for the second best running back in this draft behind LeSean McCoy. Greene has nine more carries for 123 more yards, but Wells has scored nine more touchdowns. He had 10 touchdowns last season and a career-high 1,047 rushing yards. Running backs usually go to Arizona to die (Wells could break the
top five in franchise history
with a strong 2012), but Wells might be a good one if he just stays healthy.
FS Rashad Johnson (3.95) -
The safety out of Alabama played 194 snaps as a rookie and struggled with pass coverage. He improved and played 387 snaps in 2010. Last season Johnson made a career-high nine starts at free safety. He is not a star, but neither is anyone else picked 95 or higher in this draft.
OT Herman Johnson (5.167)
- Besides Toler, Arizona stuck with a lot of the big-name programs such as LSU. Johnson won a national championship with the Tigers, but he never played in a NFL game. He spent time on Arizona's practice squad, but would later be signed by Chicago in 2010. The Bears released him last summer and he is a free agent.
DE Will Davis (6.204)
- Davis saw 116 snaps as a rookie, playing mostly right outside linebacker. He had 255 snaps in 2010 on the left side, but struggled when pushed into a starting role for three midseason games. The team released him prior to the 2011 season, and Davis remains a free agent.
RB LaRod Stephens-Howling (7.240) -
Though they did not draft LeSean McCoy, Arizona got his change-of-pace backup from Pittsburgh in Stephens-Howling. One of the best late-round pickups in the draft, he has put up 4,385 all-purpose yards for the Cardinals, including three kick return touchdowns. He has only carried the ball 72 times for 295 yards and a score, but has 39 receptions for 428 yards and three receiving touchdowns. You may recall his game-winning
touchdown
in overtime to beat Dallas last year.
G Trevor Canfield (7.254)
- After being put on Arizona's practice squad, he was signed to Seattle's active roster. Canfield has never played in a regular season game. He spent some time with the Jets in the last year, but is currently a free agent.
1. ST. LOUIS RAMS
The No. 2 pick tanked, but Rams pick best player taken by whole division in 2009
After long-time great left tackle Orlando Pace (1997-2008) was released, the Rams were in need of finding his replacement in a hurry. Fortunately, it appeared there was another franchise left tackle in the draft in Baylor's Jason Smith.
Smith was touted as a great athlete, and
this NFL scouting report
even went as far as to say Smith "will not only protect Marc Bulger's blind side, but he'll provide the push on the edge to spring Steven Jackson for long runs."
Of course, Marc Bulger only started eight more games in St. Louis, and had the worst year of his career in 2009. Steven Jackson is still running strong, but the Rams have the
worst scoring offense in the league since 2009
with just 657 combined points. Last year's Green Bay Packers scored 560 points.
Fortunately the Rams did come back in the second round to take the draft's true tackling machine in James Laurinaitis. Some Ohio State players in recent years have given pause for concern in their transition to the NFL, but Laurinaitis has been getting the job done in all facets of the linebacker position since he was a rookie.
The Class
| | | | | | | | | |
| --- | --- | --- | --- | --- | --- | --- | --- | --- |
| Rnd | Pick | Player | Pos. | College | GP | GS | CarAV | 2012 Team |
| 1 | 2 | Jason Smith | OT | Baylor | 29 | 26 | 8 | St. Louis |
| 2 | 35 | James Laurinaitis | LB | Ohio St. | 48 | 48 | 25 | St. Louis |
| 3 | 66 | Bradley Fletcher | CB | Iowa | 27 | 22 | 12 | St. Louis |
| 4 | 103 | Darell Scott | DT | Clemson | 33 | 5 | 6 | St. Louis |
| 5 | 160 | Brooks Foster | WR | North Carolina | 0 | 0 | 0 | None |
| 6 | 196 | Keith Null | QB | West Texas A&M | 4 | 4 | 1 | None |
| 7 | 211 | Chris Ogbonnaya | RB | Texas | 15 | 4 | 6 | Cleveland |
Best Pick: LB James Laurinaitis (2.35) -
The son of a former pro wrestler, Laurinaitis had a decorated college career at Ohio State. Sitting there early in the second round, the Rams got a steal. He has made 376 tackles, which are the most of anyone in the draft class. He has defended 17 passes and intercepted five. Laurinaitis is one of only nine players in this draft to play in all 48 games, and the only defensive player to start all 48 games.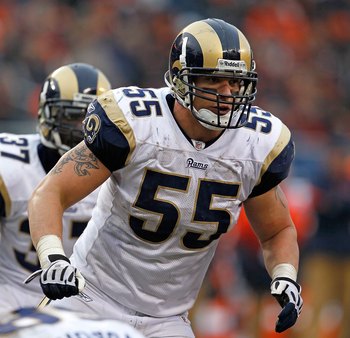 Worst Pick: OT Jason Smith (1.2) -
By default, it has to be Smith and
his huge contract worth $61 million
($33 million guaranteed). We already know he will not see all of it, as he took a
pay cut this year
to stay with the team. Despite being drafted as a franchise left tackle, Smith has played right tackle in St. Louis. He only started five games as a rookie because of a season-ending concussion. Smith struggled in 2010, and missed the last 10 games of 2011 due to another concussion/neck injury. A big ouch at that cost. Still, the Rams were all but cornered into the "safe" pick.
The Others
CB Bradley Fletcher (3.66)
- Fletcher played 247 snaps as a rookie, and made three starts. He was a full-time starter for the 2010 season, and improved as the year went along. Fletcher had four interceptions in 2010. Last season he played just 302 snaps in four games due to a second career ACL tear in his right knee.
DT Darell Scott (4.103)
- He played 283 snaps as a rookie that made five starts. A solid run defender, he moved back to a situational role in 2010, playing 256 snaps. Last year he played 246 snaps, and provides good depth for the interior defensive line.
WR Brooks Foster (5.160)
- Has never played in a regular season game. Foster's rookie season ended on injured reserve after a preseason injury. After having a cup of coffee with the Jets, he spent 2010 on Miami's practice squad. He was released last August and remains a free agent.
QB Keith Null (6.196)
- After the three quarterbacks taken in the first round, the list of signal callers to actually see the field comes down to Null and Curtis Painter, who went five picks later. That is the choice the Rams faced late in the sixth round, and they went with Null. But this Null hypothesis was quickly rejected, as four starts as a rookie led to nine interceptions and a 49.9 passer rating. The Rams released him before the 2010 season, and he has been with Jacksonville and Carolina. He is a free agent, but you probably already expected that.
RB Chris Ogbonnaya (7.211)
- Almost typed his name as "Chris Oingoboingo", which must mean we have reached the final player for the division. He played 49 snaps for the Rams in 2009. He had 11 carries for 50 yards and a 19-yard reception. After spending 2010 on Houston's practice squad, he played two games for them before being released and signed by Cleveland. All we know is he had a 28-yard run on a 3rd-and-20 play against Pittsburgh.
SUMMARY
| | | | | |
| --- | --- | --- | --- | --- |
| Team | St. Louis | Arizona | San Francisco | Seattle |
| Players | 7 | 8 | 7 | 7 |
| Still on team | 4 | 4 | 2 | 3 |
| Total GP | 156 | 176 | 154 | 195 |
| Total GS | 109 | 48 | 67 | 99 |
| Total CarAV | 58 | 37 | 33 | 46 |
As always, things are not too pretty in the NFC West.
The battle for the bottom was difficult between San Francisco and Seattle. Had to give Seattle the nod just because of how disastrous Curry was. Maybe if they had gotten some trade value out of him, but even that failed.
Arizona had an average draft that does not seem to have a ton of upside to it. Wells must shake his injury-prone status, and it would really help if Toler and Johnson returned to starter form.
St. Louis getting the best player (Laurinaitis) out of anyone, line depth with Scott, and also a nice pick with Fletcher, who needs to stay healthy too, gives them the lead here. Jason Smith is still on the team at least.
Up next
: will conclude with the AFC West, which is home to two of the most shocking picks in the top 10.
Scott Kacsmar is a football writer/researcher who has contributed large quantities of data to Pro-Football-Reference.com, including the only standardized database of fourth quarter comebacks and game-winning drives. He would like to remind you Robert Gallery (2nd overall, 2004) was a safe pick that went from Oakland to Seattle. You can send any questions or comments to Scott at smk_42@yahoo.com.
Follow @CaptainComeback
!function(d,s,id){var js,fjs=d.getElementsByTagName(s)[0];if(!d.getElementById(id)){js=d.createElement(s);js.id=id;js.src="//platform.twitter.com/widgets.js";fjs.parentNode.insertBefore(js,fjs);}}(document,"script","twitter-wjs");
From our partners