Captain Comeback: A Record-Setting Week 3
Cold, Hard Football Facts for Sep 27, 2011
By Scott Kacsmar
Cold, Hard Football Facts Comeback King
If you thought
last week
was entertaining, then Sunday's action may have tested your cardio health. If you were watching Scott Hanson eccentrically jump from game to game on the RedZone channel, you were in fact witnessing history. All eight games played at 1PM had a fourth quarter comeback, a single-day record for one time slot.
Later that night the Steelers made it nine comebacks for the day, which is also a single-day record. Each game also featured a game-winning drive, and the only other days in NFL history with nine game-winning drives were 11/23/2003 and 12/20/2009.
Finally, on Monday night Dallas made it 10 comebacks for the week, another league record. The (Cardiac) Cowboys have played nine straight games that were decided by three points or less, also a NFL record.
Tony Romo
put together his 11
th
comeback win, which just goes to show you how worthless overreacting hyperbole can be. Romo's not a choke artist, but once in a while he plays one on TV ... just like every other quarterback in the league.
This record-breaking week means this will likely be the longest edition of Captain Comeback you'll ever see. Not bad to set a record on the third edition.
Drive of the Week
Buffalo Bills vs. New England Patriots
Winner: Buffalo (34-31)
Type: 4QC/GWD
Largest Deficit: 7 (24-17)
Quarterback: Ryan Fitzpatrick (5 4QC, 6 GWD – table)
They say "No one circles the wagons like the Buffalo Bills." Well, I'm with you,
leather
.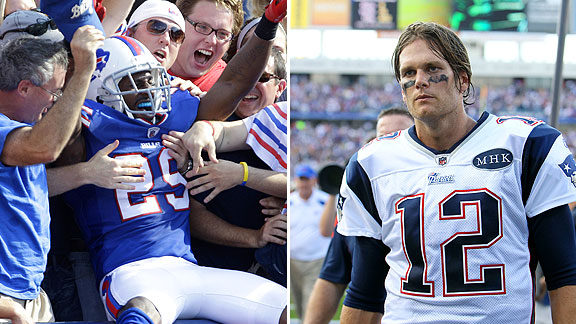 The Bills do tend to pull off the most improbable of comebacks in their home stadium. They have the largest comeback in NFL history (32 points vs. Houston in the 1992 AFC Wild Card), and the second largest comeback in the regular season (26 points vs. Indianapolis in
1997
). They were up to their old tricks again on Sunday.
After being down 21-3 to Oakland last week, the Bills came back to win 38-35. When they fell behind 21-0 to Bill Belichick's Patriots, a team Buffalo had lost 15 straight games to, you didn't expect history to repeat itself.
That's when the Tom Brady pick parade, the once annual event from 2001 to 2006, started just before halftime. It was a four interception day by Brady to start the 2003 season that led to Buffalo's last win against the Patriots. After picking off Brady in the red zone, Buffalo was able to add a field goal to cut it to 21-10 at the half.
Trailing 24-17 in the fourth quarter, Buffalo failed to seize an opportunity for the tie and punted after three plays. New England had great field position and a chance to extend the lead to two scores.
That's when Brady threw his third interception of the day. Buffalo had 95 yards to go for the tying touchdown. After a roughing the passer penalty, Ryan Fitzpatrick hit Donald Jones down the sideline for a 48-yard gain on a play the Bills completed a few times on New England's secondary in the game.
Fitzpatrick followed that perfect pass with a terrible decision that was intercepted in the end zone, however replays showed the Patriots were caught with pass interference on David Nelson, putting the ball at the one-yard line. Fred Jackson tied the game on the next play with his touchdown run.
The next play from scrimmage was a Brady pass tipped at the line, taking a strange bounce, and landing right into the hands of Drayton Florence, who returned it for the go ahead touchdown.
The fourth interception by Brady in this game tied his season total from last year, but any hardcore stat fan should know
low interception seasons
like that are more about fluke than skill, and a regression the following year is practically definite.
To their credit, Brady and the Patriots didn't roll over and die, as they did tie it again with a touchdown drive on the strength of some highlight-worthy Wes Welker catches. It was a career day for Welker (16 receptions, 217 yards, 2 TD).
That's when Buffalo took over for another
Drive of the Week
.
This time they had 3:25 left and started at their own 20. Fitzpatrick went right back to another sideline pass, with Jones beating Devin McCourty again for 29 yards. Fred Jackson would take a screen down to the end zone, with the initial ruling a touchdown. Replay showed his knee was down short, which actually was a better strategy for Buffalo as they could take the clock down.
Fitzpatrick attempted some ugly looking kneel downs, the Patriots were flagged for unsportsmanlike conduct, and after nearly 13 minutes of real time after Jackson's play, Rian Lindell finally trotted out to nail the 28-yard game-winning field goal with no time left. Another big comeback win in the books for the Buffalo Bills.
Last week we compared Fitzpatrick's big comebacks to the likes of Frank Reich, Joe Montana and Peyton Manning. Fitzpatrick lived up to those comparisons with this performance on Sunday.
The Bills are the first team in NFL history to win consecutive games in which they trailed by 18+ points. Manning's Colts trailed by 17 points twice in a three-game span against New England and Houston in 2009 and won both games. The 21-point comeback is the largest against the Patriots in the Bill Belichick era (2000-2011). Belichick's Patriots had lost only two games in which they led by at least 15 points: 2006 AFC Championship at Indianapolis (led 21-3; lost 38-34), 2009 at Indianapolis (led 31-14; lost 35-34).
Brady's Game-Winning Drives
Right after Brady's fourth interception, the pick six which put Buffalo ahead 31-24, CBS' Marv Albert decided to bring out the stat on Brady's game-winning drives, which could be viewed as an instance of bad timing to talk about Brady's fourth quarter greatness.
Thanks for the setup to this history lesson, Marv.
Albert said Brady has
31
game-winning drives in the fourth quarter and overtime in his career. Albert was wrong. However, Albert himself didn't do anything wrong, at least nothing outside of not being an avid user of pro-football-reference.com and reading Captain Comeback every week.
No, Albert was simply misinformed, as he most likely used the 2011 New England Patriots Media Guide to get that stat. The absence of CBS using a graphic representing the stat makes it even more likely Albert was just going by the numbers from the Patriots.
In Brady's player bio in the Patriots Media Guide, there is a section devoted to his "Comebacks", which lists 31 games. Since they provide the list of games, it's easy to see where the problem is, as
Brady has 32 game-winning drives
(23 comebacks) in his career.
Brady is not given credit by the Patriots for his game-winning drive last Thanksgiving against the Detroit Lions. With the game tied 24-24, Brady threw a 22-yard touchdown pass to Deion Branch with 13:45 left, putting the Patriots ahead for good. A fairly simple example of a game-winning drive in the fourth quarter.
So why was it missed by the Patriots? Perhaps a new person took over that section and since the table is entitled Comebacks, they didn't think to include a game where the Patriots never trailed in the fourth quarter. Though that doesn't make sense since it says "from a fourth quarter deficit or
tie
", and they already list
nine
other games where the Patriots never trailed.
No matter the reason, it's another example of how not having a statistic standardized leads to bad results. There's another game the Patriots don't include for Brady (opening day vs. Buffalo 2006), which should be a comeback, with no game-winning drive. The Patriots trailed 17-14, Brady led the tying FG drive, and they won the game 19-17 on a safety. Other teams would include this for their quarterback.
In fact, here's a table to demonstrate just how messed up these stats can get.
If Brady Played For...He'd Have...
| | |
| --- | --- |
| Team | 4th QT Wins |
| New England Patriots | 31 |
| Miami Dolphins | 23 |
| Denver Broncos | 33 |
| Indianapolis Colts | 26 |
| Pittsburgh Steelers | 33 |
Those are just the numbers. The names of what these drives are called also vary.
These differences are a result of some teams deciding to count playoffs and some not (Colts), some only tracking comebacks and not game-winning drives (Dolphins), and some tracking everything (Broncos).
Just remember, if you want standardized stats on comebacks and game-winning drives, there's only
one place
to look.
If someone told Marv Albert about Brady's Thanksgiving drive last year, we're sure he would tell the Patriots, "yessss, it counts!" Then he might bite someone.
The Other Paths to Victory
Detroit Lions at Minnesota Vikings
Winner: Detroit (26-23 OT)
Type: 4QC/GWD
Largest Deficit: 10 (20-10)
Quarterback: Matthew Stafford (3 4QC, 3 GWD – table)
The 2011 Vikings have started the season in a way unlike any team before them. They have gone to halftime with a double-digit lead the last three weeks, and they've come away with a close loss each time. It would be appropriate to say Coach Leslie Frazier is doing a half-assed job.
The last time Donovan McNabb was in a comeback situation against the Lions, he was benched for Rex Grossman due to a lack of "cardiovascular conditioning", which is the excuse Mike Shanahan used for the Redskins last year. Maybe Frazier should try that excuse for the whole Minnesota team this year, as they seem to forget there's a second half to be played.
How about those Lions? 3-0 for the first time since 1980, and they had to overcome a 20-0 deficit on the road in this one to get there. Matthew Stafford completely turned things around after a dismal first half to lead the comeback.
Stafford's 5-yard touchdown pass to Calvin Johnson on the first play of the fourth quarter pulled Detroit to a 20-17 deficit. Jason Hanson later hit a 50-yard field goal to tie the game. The Vikings, naturally, went three and out, and Hanson was on the board with a go-ahead field goal.
Donovan McNabb actually did his job in the two-minute drill this time, finishing the drive with a 49-yard field goal by Ryan Longwell to force overtime. But Detroit won the toss and Johnson made another spectacular catch to set up Hanson's 32-yard game-winning field goal.
Detroit had not won in Minnesota since 1997. Winning close games against the Vikings has been very difficult for the Lions.
Daunte Culpepper
had five game-winning drives against Detroit in his career.
But Joey Harrington's not the quarterback in Detroit these days. Stafford finally completed the 16
th
game of his career, which would be the equivalent of one full season.
In those 16 games, Stafford has completed 336/591 passes (56.9%) for 3,779 yards, 6.39 YPA, 28 TD, 23 INT, 75.7 rating. Given the Lions have only had four seasons in franchise history with a quarterback throwing at least 20 touchdowns, these are decent numbers for a young Detroit quarterback, and he should only get better.
It was Stafford's third comeback win, and he has been very impressive in those games. He passed for 422 yards and 5 TDs against the Browns in 2009, on his way to a 21 point comeback win. He threw 4 TDs against the Redskins last year. Now he passed for 378 yards and a pair of touchdowns in a 20 point comeback against the Vikings. This is the kind of stuff you want to see from the #1 overall pick at quarterback. Detroit fans are also happy just to see Stafford on the field (for now).
The leads for the Vikings at halftime keep getting bigger, which means the second half meltdowns are more depressing. What will Minnesota do next week when they go to take on the worst team in football in Kansas City? Now that would be an epic meltdown. Minnesota better build a bigger lead before that cardiovascular endurance fails them again.
San Francisco 49ers at Cincinnati Bengals
Winner: San Francisco (13-8)
Type: 4QC/GWD
Largest Deficit: 3 (6-3)
Quarterback: Alex Smith (5 4QC, 7 GWD – table)
No offense to fans of the Bengals and 49ers, but when you have seven other comebacks going on at the same time, this is the game that's going to get the lowest priority.
While offensive fireworks were going off around the league, these teams were playing a 3-3 snoozer into the fourth quarter. Super Bowl XXIII, another game between these two franchises, was low scoring for a while too, but let's not compare any further to the product on the field Sunday.
A fumble by Frank Gore led to an easy field goal for the Bengals. Alex Smith managed to put together a 72-yard touchdown drive, capped off by Kendall Hunter's winning touchdown run with 3:59 left.
Andy Dalton would throw two interceptions, and the 49ers went with the rare intentional safety for the first ever 13-8 win, and a rare Alex Smith comeback.
It must be difficult covering a game between two teams that have had such little success in recent times. Could you imagine trying to spark up interest by highlighting Justin Smith's return to Cincinnati? Justin Smith probably didn't even care about going back to Cincinnati for this game. He was happy to leave.
But hey, 13-8 takes another unique score off the board, so from one Captain Comeback to another, thanks for the intentional safety, Jim Harbaugh.
Tennessee Titans vs. Denver Broncos
Winner: Tennessee (17-14)
Type: 4QC/GWD
Largest Deficit: 4 (14-10)
Quarterback: Matt Hasselbeck (13 4QC, 20 GWD – table)
Matt Hasselbeck led his first comeback win since the 2007 NFC Wild Card game against the Redskins. That's a long time ago.
Denver fans wonder when Kyle Orton will lead another comeback win for the Broncos, or a win of any type for that matter. Orton led one comeback in 2010, and it was fittingly against the Titans.
After Hasselbeck's 95-yard drive, which ended with a 4-yard touchdown pass to Daniel Graham, Orton had 4:24 left to lead a winning touchdown drive. He reached the Tennessee 38, before taking a sack, then throwing two incompletions, the last being intercepted by Will Witherspoon with 1:39 left.
Tennessee ran out the clock, but with Javon Ringer rather than Chris Johnson, who has just 46 carries for 98 yards this season. Eddie George just turned 38, but he could probably come out of retirement and at least crack 2.5 YPC.
Then again, Tennessee has been
historically inept
at running the ball this season: 65 carries, 155 yards, 2.38 YPC. Their longest run is a 21-yard fluke by the punter Brett Kern.
The Titans just lost Kenny Britt for the season as well. Looks like Hasselbeck will have to relive the glory days in Seattle to get this team in shape for a serious run at the AFC South.
Carolina Panthers vs. Jacksonville Jaguars
Winner: Carolina (16-10)
Type: 4QC/GWD
Largest Deficit: 2 (10-8)
Quarterback: Cam Newton (1 4QC, 1 GWD – table)
It was a battle of the two 1995 expansion franchises. It was a battle of two rookie quarterbacks. In the end, the weather grabbed all the attention, as these teams played much of the game in a downpour that soaked up the playing field.
Cam Newton came up a yard short the first two weeks on a late drive when Carolina needed a touchdown. He had a third straight comeback opportunity, and he made sure this one worked. Newton passed to tight end Greg Olsen over the middle and he ran it the rest of the way for a 16-yard touchdown with 4:20 left. Newton went right back to Olsen for the two-point conversion.
Blaine Gabbert was unable to answer in his first start, and Newton picked up the first win, which is halfway to Carolina's 2010 total of two.
Cleveland Browns vs. Miami Dolphins
Winner: Cleveland (17-16)
Type: 4QC/GWD
Largest Deficit: 6 (16-10)
Quarterback: Colt McCoy (1 4QC, 1 GWD – table)
Colt McCoy was a prolific NCAA quarterback, winning a record 45 games as a starter for Texas. In the NFL, he's just trying to prove to Mike Holmgren and the Browns that he is capable of leading this team to success.
McCoy was 3-7 as a starter heading into this game. Last season he forced overtime with a late touchdown drive against the Jets. He led a go-ahead field goal drive against the Jaguars. The Browns went on to lose both of those games.
He found himself with another opportunity Sunday, as Cleveland trailed the Dolphins 16-10 with 3:23 left and the ball at their own 20. McCoy used the no-huddle to complete 9/13 passes for 75 yards, and the 14-yard game-winning touchdown pass to Mohamed Massaquoi with 0:43 left.
The Dolphins still had a good chance for a winning field goal, after a solid kick return, Cleveland was penalized 15 yards for a horse collar tackle. Chad Henne had the ball at the CLE 47 and 0:36 left, plenty of time to get in range for Dan Carpenter.
Instead, Henne threw three straight incompletions, then was intercepted on fourth down. The Browns improved to 2-1 and Miami fell to 0-3.
New Orleans Saints vs. Houston Texans
Winner: New Orleans (40-33)
Type: 4QC/GWD
Largest Deficit: 9 (26-17)
Quarterback: Drew Brees (17 4QC, 26 GWD – table)
The shootout of the week took place in New Orleans, as the Texans hoped to prove their defensive improvements were legit, and that they are a contender in 2011.
Things started well for Houston, with an opening drive touchdown and a 10-0 lead after the first quarter. In the second half, the lead would change five times.
Matt Schaub threw a touchdown to H-back James Casey on the first play of the fourth quarter to take a 26-17 lead.
After the teams exchanged punts, Drew Brees got the comeback going, hooking up with Jimmy Graham for a 27-yard touchdown to make it 26-24 with 9:30 left.
Schaub threw an interception, which gave the Saints good field position. Brees went to Lance Moore for the touchdown and two-point conversion for a 32-26 lead.
The Texans did rebound, but it took the craziest touchdown of the season: a pass that deflected off multiple Saints, never touched the ground, and Kevin Walter pulled it in for a 20-yard touchdown.
Brees continued to make the Texans have flashbacks of last year when they continuously were shredded by the passing game, especially in moments like this. Brees led a 93-yard game-winning touchdown drive, with Mark Ingram running it in from 13 yards out with 2:42 left. Lance Moore became the 10
th
player in NFL history to score multiple two-point conversions in the same game.
Houston still had a chance, but an offensive pass interference penalty and sack of Schaub on third down set up a 4
th
and 21, which was an incomplete pass to Andre Johnson. The Saints ran out the clock for the win.
It was a 30-point second half for the Saints, which led to a feeling of "they are who we thought they were" in regards to Houston. They get Pittsburgh next week.
New York Giants at Philadelphia Eagles
Winner: NY Giants (29-16)
Type: 4QC/GWD
Largest Deficit: 2 (16-14)
Quarterback: Eli Manning (15 4QC, 18 GWD – table)
Michael Vick returned from his concussion suffered last week, and he made it to the fourth quarter this time. However, the ending would be similar to the Atlanta game, with Vick not able to finish (right hand bruise), and the Eagles losing the fourth quarter lead and the game as Mike Kafka was unable to get the job done.
After Vick was injured on a failed fourth down conversion, the Giants took over and Eli Manning was having a much better game this week (254 yards, 4 TD). He threw a 28-yard touchdown pass to Victor Cruz, which proved to be the game-winner. Apparently teaming up a trio of quality corners still leaves you susceptible to giving up 100-yard games to Victor Cruz.
Kafka then entered the game and promptly was intercepted by Aaron Ross. Eli threw his fourth touchdown of the day, Kafka threw his second interception, and that was game over.
The Eagles (1-2) are now in last place in the NFC East, and Vick's availability is up in the air moving forward because of his latest injury. Now
who
possibly could have seen that coming?
Pittsburgh Steelers at Indianapolis Colts
Winner: Pittsburgh (23-20)
Type: 4QC/GWD
Largest Deficit: 3 (13-10)
Quarterback: Ben Roethlisberger (20 4QC, 26 GWD – table)
Two AFC powerhouses that rarely meet. Peyton Manning in the building. A third straight meeting that went down to the final play. NBC probably got exactly what they wanted, right?
Well, the only problem is Manning had to watch from a coaches' box up in the rafters as Kerry Collins and Curtis Painter combined to go 18/40 for 153 yards.
The Colts looked like a sound football team, in every area except for the passing game, which is a complete turnaround from what we've come to expect. They outran the Steelers, and forced 3 turnovers to 1 for Pittsburgh. They just couldn't complete enough passes, as Painter (replacing an injured Collins in the fourth quarter) missed a wide-open Pierre Garcon for what would have been a touchdown.
The Steelers hardly looked like contenders themselves.
Jonathan Scott made his audition tape for "Worst Left Tackle in Football", proving he could never block Dwight Freeney, he got in Rashard Mendenhall's way more than he helped block for him, and NBC provided the triple-whammy with a graphic showing Scott's league-leading number of penalties.
To make matters worse, Scott and two other offensive linemen left the game with injuries, putting even more pressure on an already thin and battered line.
Still, the game was interesting to watch in a car accident type of way.
Trailing 13-10 and facing a 3
rd
and 18, Roethlisberger converted to Emmanuel Sanders to set up Shaun Suisham's 44-yard field goal to tie the game.
While the Steelers got their first takeaway since the AFC Championship game with a sack/fumble/touchdown off Curtis Painter, they immediately allowed Painter to lead an 80-yard touchdown drive to tie the game.
Roethlisberger took over with 2:09 left and moved the Steelers into field goal range. Suisham came on for the 38-yard winning field goal with 0:04 left.
Roethlisberger moved past Terry Bradshaw (19) with his 20
th
fourth quarter comeback win. He became the 20
th
quarterback overall to reach 20 comeback wins, and is the only player to do it before turning 30.
Ben Roethlisberger's Record Pace

| | | | |
| --- | --- | --- | --- |
| QB | Games to 20th 4QC | Age | Date |
| Johnny Unitas | 98 | 30-194 | 11/17/1963 |
| Ben Roethlisberger | 115 | 29-207 | 9/25/2011 |
| Tom Brady | 126 | 30-148 | 12/29/2007 |
| Randall Cunningham | 136 | 34-275 | 12/27/1997 |
| Peyton Manning | 141 | 30-191 | 10/1/2006 |
| Jake Plummer | 142 | 31-328 | 11/12/2006 |
| John Elway | 144 | 31-190 | 1/4/1992 |
| Dan Marino | 146 | 31-012 | 9/27/1992 |
| Y.A. Tittle | 147 | 36-011 | 11/4/1962 |
| Drew Bledsoe | 152 | 31-233 | 10/5/2003 |
| Joe Montana | 154 | 33-098 | 9/17/1989 |
| Warren Moon | 159 | 37-353 | 11/6/1994 |
| Fran Tarkenton | 160 | 32-269 | 10/29/1972 |
| Jim Kelly | 164 | 36-200 | 9/1/1996 |
| Dan Fouts | 169 | 34-153 | 11/10/1985 |
| Kerry Collins | 173 | 35-280 | 10/5/2008 |
| Joe Ferguson | 178 | 36-207 | 11/16/1986 |
| Dave Krieg | 179 | 36-045 | 12/4/1994 |
| Vinny Testaverde | 182 | 37-335 | 10/14/2001 |
| Brett Favre | 222 | 35-042 | 11/21/2004 |
Dallas Cowboys vs. Washington Redskins
Winner: Dallas (18-16)
Type: 4QC/GWD
Largest Deficit: 4 (16-12)
Quarterback: Tony Romo (11 4QC, 12 GWD – table)
Yet another week went by with Tony Romo in the headlines. He took a pre-game injection, wore a protective vest, and played the whole game. Just like last week in San Francisco, he led Dallas to another comeback victory, and since this game was in primetime, a lot of people should have seen this one.
With Miles Austin out, Felix Jones and Dez Bryant playing hurt, the Cowboys had to rely on some inexperienced receivers to get the job done. Dallas made plenty of mistakes in the game, whether it was the receivers running wrong routes, or the inexplicable number of early snaps from center Phil Costa.
Romo did not throw a touchdown pass for the first time in 20 games, and the Cowboys didn't score a touchdown at all on the night Still, down 16-15, Romo made the biggest third down play of his career.
After another early snap Romo had to recover to avert disaster, the Cowboys ended up facing 3
rd
and 21 at their own 30 with 2:20 left. Romo improvised and found Dez Bryant for a 30-yard gain to convert, and the Cowboys gained 15 more yards on a facemask penalty by DeAngelo Hall, the same player that said earlier this week that he was going to target Romo's ribs.
That 45-yard gain put Dallas in field goal range, and rookie kicker Dan Bailey came out and calmly hit the 40-yard game-winning field goal with Vinatieri-like precision (right down the middle). Bailey was 6/6 for the night, scoring all 18 of Dallas' points.
Rex Grossman still had a good opportunity to lead Washington on a game-winning field goal drive like last week, but Anthony Spencer tracked him down for a sack/fumble, recovered by Dallas to put the game away.
Going back to last season, the Cowboys have now played in nine straight games decided by three points or less. They're 5-4 in those games, but more importantly, they are now 2-1 and in a tie with the Giants and Redskins in the NFC East.
Romo's stat line was nothing like we're accustomed to seeing (22/36 for 255 yards, INT), but he made the kind of plays that his detractors believed he couldn't. Should Dallas continue playing such close games, Romo will have plenty of chances to prove himself.
Detroit at Dallas in week 4 looks rather interesting.
Top 3 Comeback Failures of the Week
With so many winners, we'll take a quick look at some players that did not get the job done this week.
3. Roddy White, Atlanta WR
– White had a good day overall (9 catches for 140 yards), but with Atlanta down 16-10, White dropped two easy passes inside the 10-yard line, and Atlanta had to settle for a field goal. Tampa Bay was able to run out the rest of the clock thanks to a hard count drawing Atlanta offsides on 4
th
and 1, similar to what happened with Minnesota in week one against San Diego.
2. Kevin Kolb, Arizona QB
– Needing just a field goal to tie, Kolb dropped back on a 3
rd
and 12 at the SEA 36. His pass was intercepted by Kam Chancellor, who jumped the route with 1:04 left.
1. Matt Cassel, Kansas City QB
– Not even a slumping San Diego team in September can get Kansas City that first win. Cassel finally managed to get above the Mendoza line for YPA (finished at 7.33), but when he had the ball at the SD 43, only needing a field goal, he threw his first interception of the day to doom the Chiefs. It was a screen pass, and Eric Weddle backed up some of his new contract money by diagnosing the play correctly and intercepting the pass with 0:55 left.
And that is what you call a record week.
Scott Kacsmar is a football researcher/writer who has contributed large quantities of data to Pro-Football-Reference.com, including the only standardized database of fourth quarter comebacks and game-winning drives. He thinks a trip to Las Vegas with Chris Berman and Marv Albert would be life-changing, with lots of leather. You can send any questions or comments to Scott at smk_42@yahoo.com and you can follow him on Twitter at @CaptainComeback.
Read more:
Ben Roethlisberger
,
Buffalo Bills
,
Dallas Cowboys
,
Drew Brees
,
Fourth Quarter Comebacks
,
Game-Winning Drives
,
Matthew Stafford
,
New England Patriots
,
NFL
,
Peyton Manning
,
Pittsburgh Steelers
,
Ryan Fitzpatrick
,
Tom Brady
,
Tony Romo
From our partners