Randall Cunningham & The Legacy Of "QB EAGLES"
Cold, Hard Football Facts for Nov 06, 2013
by Pat Imig
Cold Hard Football Facts' Video Game Historian (@patrickimig)
NFL Network rolled out it's "Randall Cunningham: A Football Life" episode on Tuesday night. What it failed to spotlight was the dominance of Cunningham in Super Tecmo Bowl as "QB Eagles"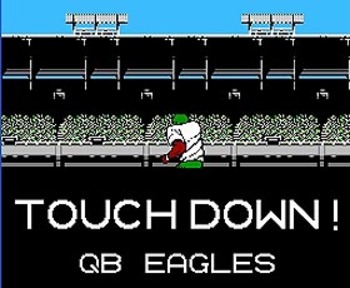 "QB Eagles" was the most dominant video game football player this side of Bo Jackson in the original Tecmo Bowl. Why was he "QB Eagles" and not Randall Cunningham?
When Tecmo produced and released the game in 1991, Cunningham, along with Buffalo Bills quarterback Jim Kelly and Cleveland Browns quarterback Bernie Kosar, weren't members of the National Football League Players Association's marketing agreement. This prevented the NFLPA from licensing their likenesses.
And so, they were represented by generic names: QB Bills, QB Eagles, and QB Browns, respectively.
As far as "QB Eagles" goes, he's the most dominant and dynamic video game athlete with a generic name in the history of Nintendo football games.
So there's that.
By the way, if you missed this episode of A Footaball Life, you can watch various segments at the links below courtesy of NFL.com:
Read more:
A Football Life
,
Bernie Kosar
,
Brown
,
Buffalo Bills
,
CHFF Blog
,
Cleveland Browns
,
Jim Kelly
,
NFL
,
NFL Network
,
Philadelphia Eagles
,
Randall Cunningham
,
Week 10