FOX And NFL Will Show Players' Body Temperatures At Super Bowl
Cold, Hard Football Facts for Jan 15, 2014
Since Super Bowl XLVIII takes place outdoors at the Meadowlands in two plus weeks, the folks at Fox Sports want to go where no cameras have gone before: they want to show the internal temps of the players!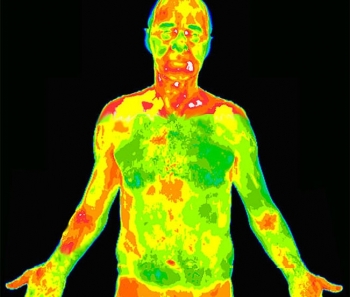 It will use this weekend's NFC title game in Seattle between the San Francisco 49ers and the Seahawks to test an infrared camera that will show how players' body temperatures change throughout the game.
"I don't know what story that tells, but it might make for some pretty cool pictures," Eric Shanks, Fox Sports chief operating officer and executive producer, told the Television Critics Association on Monday.
He said another unspecified device will show how wind affects a quarterback or kicker.
Shanks said the network will have more high-tech 4K cameras than ever before to zoom in for what he called "that definitive angle."
A "definitive angle"? Are they going to zoom in on Peyton Manning's forehead helmet stain or zoom up Bill Belichicks's hoodie? Guess it depends who wins the AFC Championship game.
Back in the mid-90s - 16 years ago this month - Fox Sports unveiled the glowing puck on its NHL telecasts, which showed viewers at home how hard/fast a player's shot was. It didn't last long; the last known, recorded glowing puck on Fox occurred in the 1998 playoffs.
How have we survived this long without it?
And how have we survived without knowing how wind affects a kicker or a quarterback until now?
Oh wait, we have. That's what the TV broadcast and announcers provide.